Custom Printed Napkins
Call us 1-800-915-3535
Some of the custom napkin styles we offer include 2 ply napkins, 3 ply napkins, custom printed colored napkins, and much more! The possibilities are endless with custom printed napkins!
Imprinted beverage napkins are perfect for any light use application. Provide them alongside refreshments, appetizers, or coffee. Beverage napkins come in a variety of colors and thicknesses. We have 1 ply up to 3 ply custom printed beverage napkins to choose from. Imprint anything on a beverage napkin to make it an effective promotion. These napkins are great for restaurants, bars, cafes, and more.
Check out our napkins, and find prices as low as $0.09 each!
Custom printed luncheon napkins are excellent for cafes, delis, bistros, and coffee shops. Being larger than beverage napkins, luncheon napkins are best suited for light lunches. By imprinting graphics or text to a luncheon napkin you can create an effective promotion for any establishment. We offer a variety of colors and thicknesses to choose from.
Promotional dinner napkins can make any table setting an effective advertising opportunity. While patrons are sitting at the table it will be hard to miss a custom printed dinner napkin. Make a plain dinner napkin an attractive accent for your table settings by custom printing your name, date, or custom graphic on a napkin in 1 or more colors. With a custom printed dinner napkin your event or business will be remembered.
Turn an ordinary napkin into something unique for your party or business event. Personalize your napkin with any graphic or text for a classy look at a low cost. With several choices in napkin styles and with your logo printed on them, these customized napkins can add a custom and professional look to any event! High in quality and low in price, these promotional napkins are great for weddings, graduation parties, birthday parties, picnics, and many other events! Choose from one of our variety of dinner napkins, beverage napkins, luncheon napkins, linen-like napkins, wedding napkins and more. Then have your logo custom printed on them for a huge effect!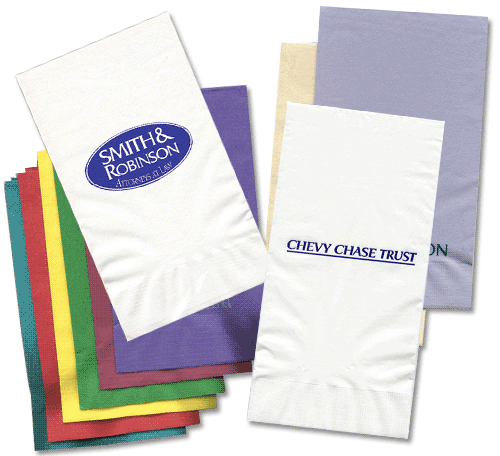 For more information on the types of custom printed napkins we offer, feel free to give us a call at the number above!